Posted on May 30, 2016
Animal lovers savour that moment when a pet runs up to greet them at the end of the stressful day. Few jobs are probably more stressful than the U.S. president's position. That's why it is no surprising that presidents and their families have always been fond of animals. Dogs seem to be first in line, but creatures from mice to alligators have also been presidential pets in the White House.
List of Presidential Pets
George W. Bush
"Barney was by my side during our eight years in the White House.
He never discussed politics and was always a faithful friend." President Bush remembered his little friend with these words when he died of lymphoma in 2013 at the age of 12.
Barney, a Scottish terrier, was a gift to George W. Bush after the 2000 presidential election. He was always polite and liked to greet prime ministers, queens and heads of state in the White House. Barney was even a media star, he had his own website where his fans could watch videos from the dog's perspective about visiting celebrities and White House staff.
"Barney and I enjoyed the outdoors," Bush said. "His favourite activity was chasing golf balls." However, Barney could also lose his temper. Once he bit the Reuters news reporter and the Bostons Celtics public relations director.
Among other presidential pets were a Scottish terrier Miss Beazley, an English springler spaniel Spot, a cat India, and a longhorn cow Ofelia.
Bill Clinton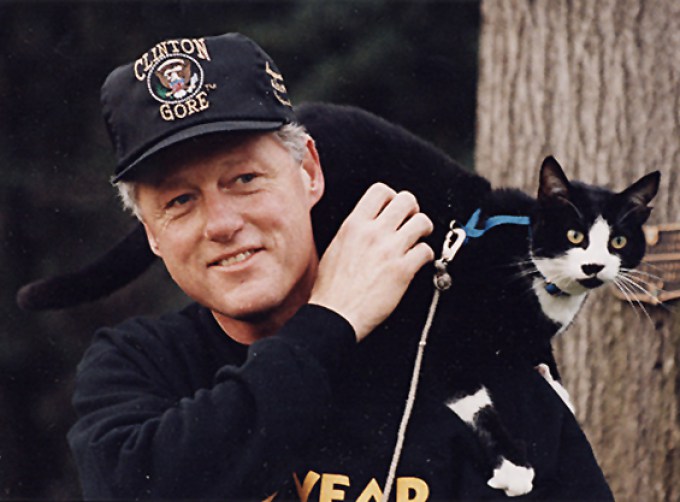 Socks, a black-and-white stray cat, became a presidential pet in 1991 when he jumped into the arms of Chelsea Clinton. Once the Clinton family took the cat, he took place in the America's heart.
He was a subject of a popular TV comedy, Murphy Brown, a cartoon book and a song, he appeared with the President on a series of stamps in the Central African Republic. Socks was so popular, that a Clinton family even asked the photographers to leave this poor cat.
In 1997 a Labrador retriever Buddy joined the presidential family but Socks wasn't a fan of a new dog. Hillary Clinton said that Socks "despised Buddy from first sight, instantly and forever."
When Socks died in 2009, Bill Clinton admitted: "Socks brought much happiness to Chelsea and us over the years, and enjoyment to kids and cat lovers everywhere. We're grateful for those memories…"
George H.W. Bush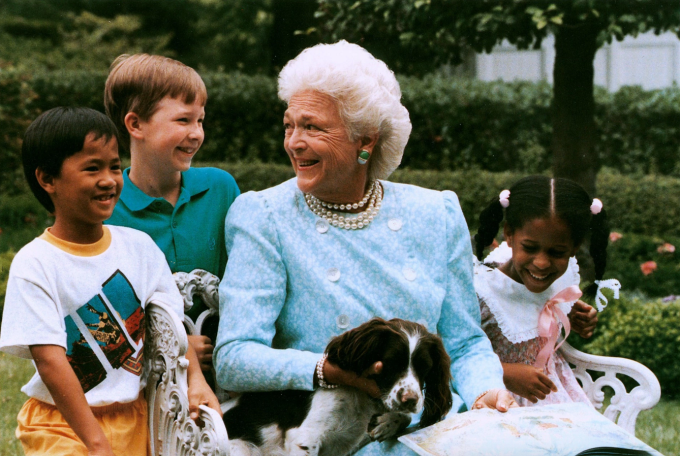 Millie is among the most notable pets in the White House. The English springer spaniel "wrote" Millie's Book: As Dictated to Barbara Bush that describes a day in her life at the White House. In 1992 it was at the top of the New York Times bestseller list.
Millie was depicted in several TV shows, including Who's the Boss and Murphy Brown. She even appeared in the episode of The Simpsons. The 15-acre Millie Bush Bark Park on the west side of Houston is named after her.
Millie took active part in re-election. "My dog Millie knows more about foreign affairs than these two bozos," Bush claimed, mentioning his opponents Al Gore and Bill Clinton.
Millie was even a mother of two other presidential pets: Ranger and Spot. She died at the age 12 of pneumonia.
Ronald Reagan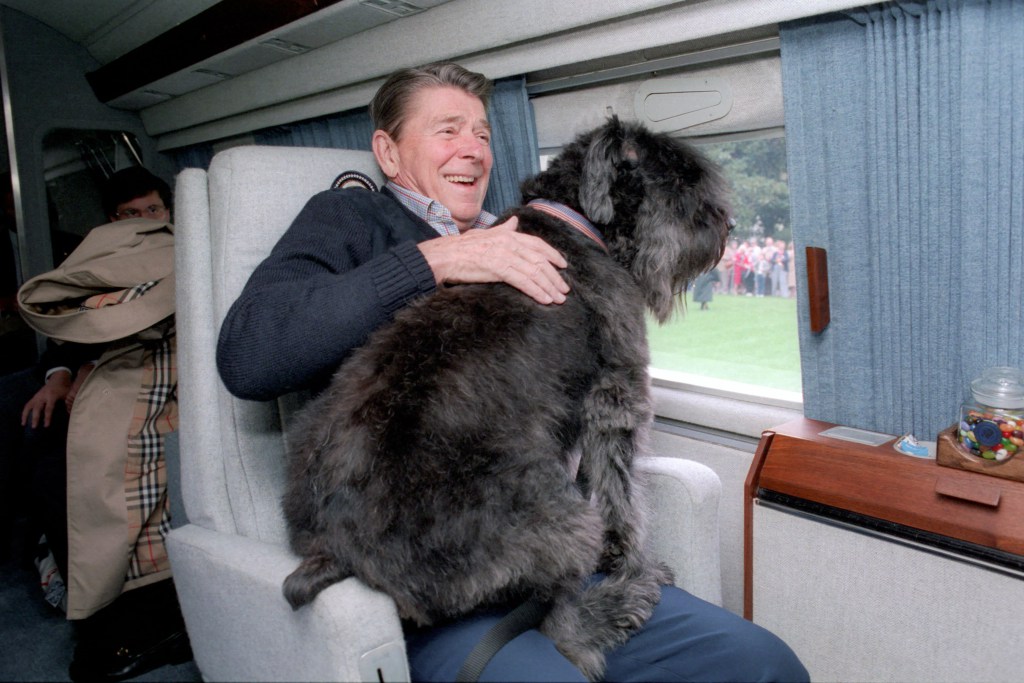 Lucky, a large black dog, was said to "to be a size of a pony. " And not for reason. His breed Bouvier des Flandres originated in Belgium for the purposes of pulling carts and herding kettle. Bouviers are known as fearless dogs useful as both family friends and guard dogs. They require a lot of room to exercise and wander about, and the Reagans soon found that out.
Lucky was named in the honour of Mrs. Reagan's mother, Edith Luckett ("Lucky") Davis. A small "ball of fluff," a nine-year-old puppy, turned into a large dog just in several months.
Lucky enjoyed running in the halls of the White House. However, despite the efforts at training, she didn't really adjust to live there. That's why the president and his family decided to send her to their ranch in California in 1985. She died at the age of 10 in January 5, 1995.
Ronald Reagan had a few other dogs: Rex, Cavalier King Charles spaniel; Victory, golden retriever; Peggy, Irish setter; Taca, Siberian husky; and Fuzzy, Belgian sheepdog.
Jimmy Carter
When Jimmy Carter and his family moved into the White House, they didn't take no pets along. Grits arrived at the White House on June 8, 1977. The dog was named in honour of the Carter's family Southern roots. A handsome border collie mix was a present to Carter's daughter Amy from her school teacher, Verona Meeder.
Visitors admitted that Amy "sure loves that dog." She enjoyed petting Grits on the steps of the White House. However, the Carters decided to return the dog to the Amy's teacher. Some sources report that one of the reasons was that a dog had behaviour problems. Moreover, Grits didn't get along with the Carter's cat, Misty Malarky Ying Yang. But it also may be because Amy's teacher lost her own dog, and the girl wanted to ease the sadness.
Gerald Ford
The Fords have always been fond of dogs. Long before they moved to White House, they had golden retrievers. Their daughter, Susan, asked their family friend – a photographer David Kennerly to help them get a new dog. Kennerly contacted a breeder about a puppy. Susan surprised her father with a cute dog she called Liberty.
Liberty became famous when Gerald Ford and his wife decided to breed her with a golden retriever. The press became crazy when Liberty gave birth to nine cute puppies. Mrs. Ford didn't let them to be photographed before they were 2 months old. The photos were made by Kennerly and was in high demand as well as puppies themselves.
Liberty died at the age 11 in 1986. The Fords also had a Siamese cat Shan and a dog Lucky.
Richard Nixon
Checkers is probably the most famous candidate in the list of presidential pets. Nixon's cocker spaniel never lived in the White House, but he became a celebrity when Sinator Nixon mentioned him in his speech in 1952. It became to be known as the Checkers speech when the politician for the first time used TV to appeal to the voters.
Nixon loved Checkers a lot. He always had dogs biscuits in his desk and enjoyed watching him to play. The cocker spaniel lived with Nixon until he died in 1964 at the age of 13, four years before Nixon was elected a president.
Three other dogs lived with Nixon in the White House: poodle Vicky, terrier Pasha and Irish setter King Timahoe.
Lyndon B. Johnson
Lyndon B. Johnson loved dogs and they loved him a lot. The president's beagles, Him and Her, became celebrities when the Life magazine published a photo portraying how Johnson was peaking up the dog's ears. Hundreds of calls and letters came from the dog lovers. They wrote "If someone picked you up by the ears, you'd yelp, too."
However, dogs seemed to like that a lot. They were treated very well and enjoyed swimming in the White House pool and riding along in the president's car.
Sadly, both Him and Her died at a young age. Him was hit by a car when he was chasing the squirrels in 1966, and Her died after swallowing a stone in 1964.
After Him and Her died, Lyndon B. Johnson had two other dogs – collie Blanco and a mixed-breed dog Yuki.
John F. Kennedy
Charlie was a Welsh terrier the Kennedy family brought with them when they moved into the White House. Kennedy loved animals despite his allergy to animal hair and wanted his children to have experience of taking care of them.
Jackie Kennedy gave Charlie to her husband as a gift during Kennedy's campaign for president and he became a part of their family. However, John F. Kennedy didn't like one Charlie's habit: He loved nothing more than to fetch a stick. He always brought the stick and drop it on the lap.
The First Couple enjoyed walking outside the gates of the White House and playing with Charlie. 'They resembled two students taking a dog for a walk. They looked so happy," told their son Bryant.
Among other Kennedy's pets were ponnies, hamsters, a cat, a rabbit, a horse, a canary, and seven dogs of different breeds.
Dwight D. Eisenhower
Heidi is probably the only dog banned from the White House. A beautiful female Weimaraner was born on the 9th of May, 1955. She had an accident on the expensive rug in the diplomatic reception room. It's cost was about $20,000 at that time. Because of the Heidi's weak bladder, the Eisenhowers decided to send her to their farm in Pennsylvania.
Heidi was protective of her owners. She was wary of photographers and always tried to prevent the First Lady from having her picture taken. Heidi just jumped between the Mamie Eisenhower and the camera. Weimaraners are great family dogs, known for their hunting abilities and loyalty.
Heidi liked to sleep in the basket on the third floor and run in the White House. During the day, she napped in the president's private office where Eisenhower gave her head scratches. After she left Washington she had four puppies and enjoyed life on the farm.